Exela Technologies Gets $90 Million Contract Award with Major US Health Insurer
Exela Technologies, Inc. (XELA) announced on March 9 that the company received a new $90 contract with a major US health insurance company. Exela Technologies is a global leader in business process automation and launched its PCH Global platform in September 2020 to combine its services with the power of automation technology and SaaS. This new venture will deploy the PCH Global platform to provide cloud computing capabilities in end-to-end processing of health insurance claims and multi-channel communications between providers, member networks, and the insurance company.
Jet Equities detected an event and alerted subscribers at 8:15 am. The next trade took place at 8:16 am for $2.64. The stock price spiked higher at the market open and continued to gain throughout the day. Exela gained 180% during the event day before closing at $4.61.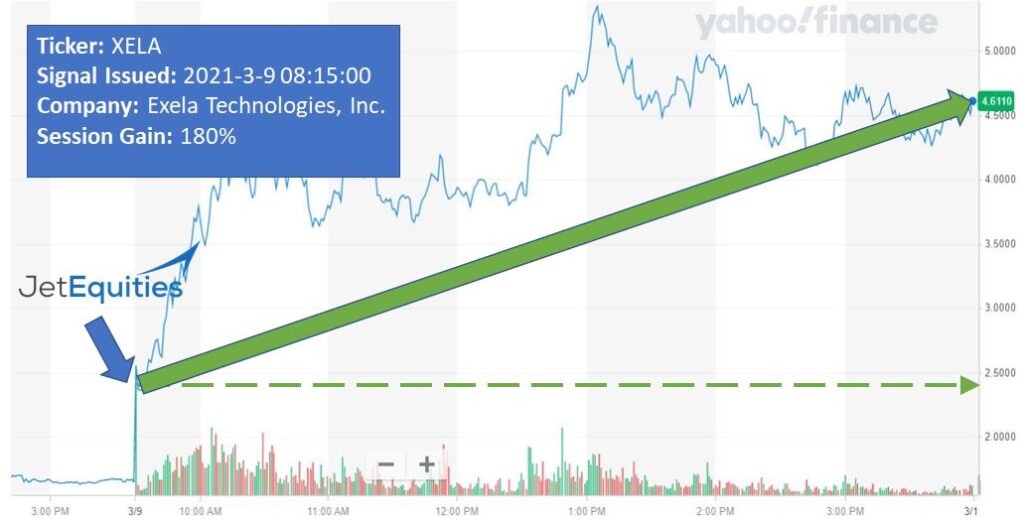 Visit the Knowledge Center for more information about trading contract awards.
Subscribe here if you would like to start receiving these signals in real-time and start trading!