Diana Shipping Announces New Time Charter Contracts
On January 8, Diana Shipping, Inc. (DSX) announced that it has entered into two new time charter contracts with Cargill International. Both the m/v Santa Barbara and m/v Salt Lake City contracts total $11.89 million in revenue over the scheduled time periods. The m/v Santa Barbara contract lasts until at least January 2, 2022. The m/v Salt Lake City contract lasts until at least April 1, 2022. Diana Shipping is a global shipping company specializing in the ownership of dry bulk vessels.
Jet Equities detected the event and issued an alert at 9:02 am. The next trade took place at 9:05 am for $2.09. The stock price moved higher throughout the day before closing at $2.37. Diana Shipping experienced an event-day gain of 17%.
The stock price continued to increase over the next four trading sessions. Diana Shipping closed at $2.36 on January 14. That makes a five-day gain of 13% following the contract award announcement.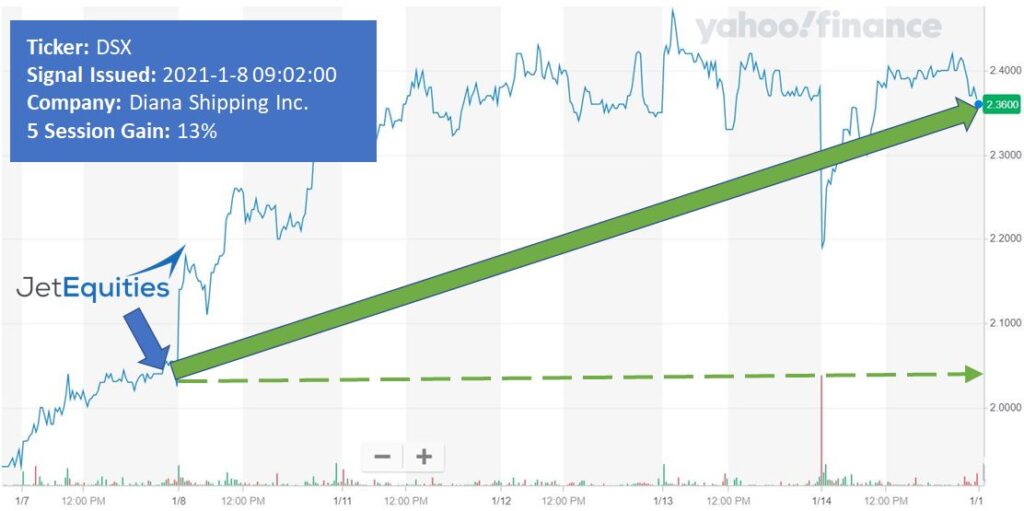 Visit the Knowledge Center for more information about trading contract awards.
Subscribe here if you would like to start receiving these signals in real-time and start trading!