FDA Approves ORLADEYO by BioCryst for to Prevent HAE Attacks
On December 3, BioCryst Pharmaceuticals, Inc. (BCRX) announced that the FDA approved oral, once-daily ORLADEYO™ (berotralstat) to prevent hereditary angioedema (HAE) attacks in adults and pediatric patients over the age of 12. This is the first oral non-steroidal treatment option for people with HAE. In the Phase 3 clinical trial, ORLADEYO™ significantly reduced HAE attacks at 24 weeks, and it reduced attacks through 48 weeks of therapy.
Jet Equities sent an alert to its subscribers at 8:45 pm on December 3, and BioCryst traded at 4:15 am on December 4 for $5.48. The stock price soared above $6 when regular market trading opened for the day. The gains continued over the next few trading sessions. BioCryst closed at $7.65 on December 10 with a five-day gain of 31%.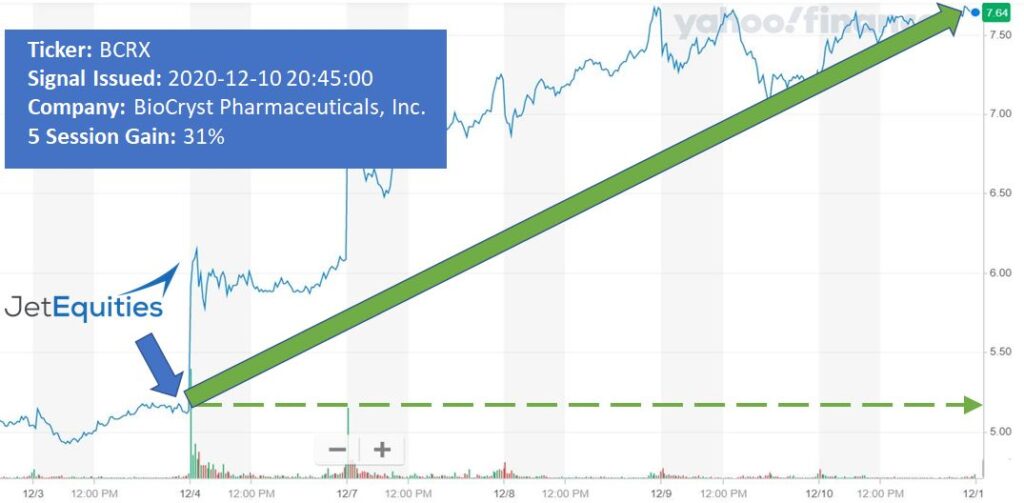 If you want to learn more about trading on clinical trial results, visit the Knowledge Center.
Subscribe here if you would like to start receiving these signals in real-time and start trading!